Posted: October 24, 2006 in House & Garden
Yesterday Jess and I celebrated our one year wedding anniversary. We decided to go to Ruth's Chris Steak House, because we've both always wanted to try it, if for no other reason than to compare it to the usual chains like Outback, etc. Since she had to go into work, I drove up and met her at the restaurant, making sure to arrive ahead of her. On the way up, I stopped and bought her a diamond bracelet made of white gold that will match her wedding ring. When I got to the restaurant, I scoped out our seat, and placed her gift and a card on the table, so she'd find them when we were seated.
Well, I have to say, the steak was quite good, but honestly, the prices were a bit outrageous. Steaks were in the $30-$40 range, with other "specialty" steaks being even higher. They had a Kobe steak for $64, and even a Porterhouse for $80 (!), although it was said to feed two. Salads were $6.50+ and side dishes (sides are ala carte and don't come with the steaks) were $8.50, though they are big enough for two. We each had a salad, and chose sides of creamed spinach and potatoes au gratin.
The staff was very pleasant, and they knew it was our anniversary. The "Front of House" manager came and greeted us, wishing us a happy anniversary, and made some small talk, and they gave us a complimentary desert item (which was also fantastic). We ended up around $120 for the night, not counting tip. Something we definitaly cannot afford to do very often.
Overall, the weekend was nice. On Saturday, I took Jess up to the Catoctin Mountains to see some fall foliage. She even got to drive the Mini!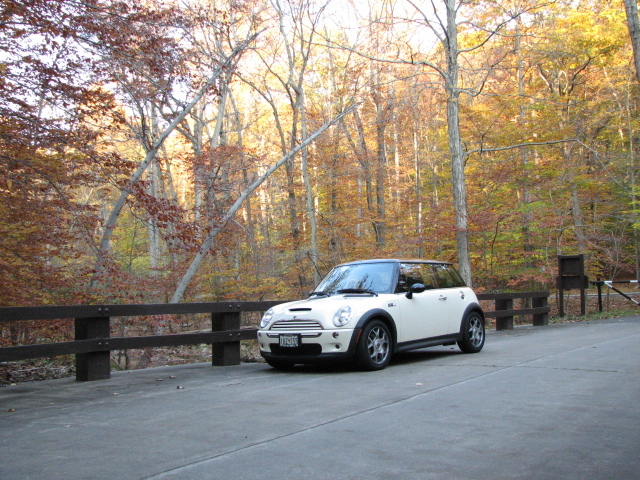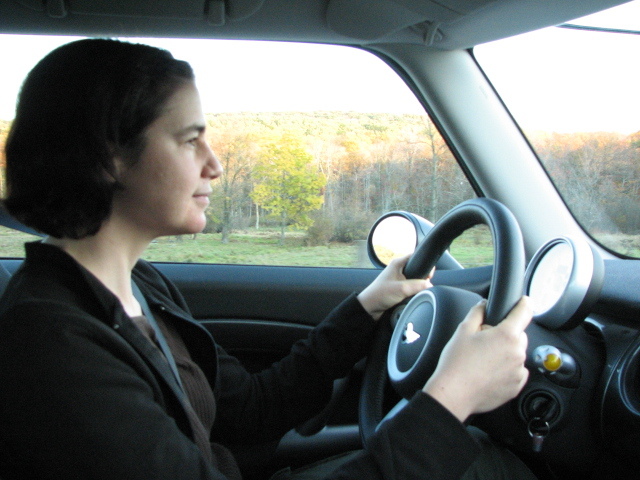 We spend Sunday at the movies. We saw "The Queen" (B+) and "Last King of Scotland (A). We enjoyed both. After the movies, we had dinner at B&D's Mongolian BBQ, which is a place where you load a bowl up on a buffet line with whatever combo of meat, veggies, and condoments you want, pick a sauce and some seasoning, and they fry everything up right in front of you.
It was yummy, but I went a little overboard on my 2nd bowl. It was a chicken dish with some snap peas, water chestnuts, and broccoli, but the sauce was where I got carried away. Garlic chili sauce, with 2 scoops of cayenne pepper, a scoop of black pepper, a scoop of garlic powder, a scoop of chili powder, half a scoop of curry powder, half a scoop of jerk chicken seasoning, and a dash of kung pao sauce. It was like flaming battery acid. But it was yummy! I ended up chasing it with a salad so I could get my taste buds back to normal.
Overall, it was a very good weekend. I just can't believe it's been a year already.
Add Comment
< Back to blog