Posted: October 12, 2014 in Cycling
Before I start, I'd like to give a nod to my LBS, All American Bikes, for getting my previous position pretty much duplicated on the new bike (and for handling all the warranty stuff with Trek). I had to do almost zero fiddling with my position. Leveling out the saddle was the only change I had to make.

First off, I want to talk about the fit of the bike. This bike fits slightly longer than my 5500 did. With my saddle in the exact same position relative to the pedals, I was a bit stretched out with my same 115mm stem. While I've ordered a new 100mm stem, I almost wish I'd waited because I'd probably adust to this in time, and it actually feels a little more roomy when out of the saddle. That said, this is an ugly stem, and it looks like a spigot that should be stuck to the side of an old house, not on a bike.

Switching to this frame from my 5500 (and the obligatory crankset swap) lost me around 2 lbs. But it feels like I lost a lot more, because this bike likes to accelerate. I have a feeling the BB90 bottom bracket standard has a lot to do with that, and it's probably a lot stiffer of a setup than my old octalink. In fact the bike wants to go so badly that I almost spent my legs just getting out of the neighborhood.

Once up to speed, it's really not all that different than my 5500, other than the position being a bit different. But the one place I did notice an improvement was over rough, broken-up pavement. I think the bump compliance is the single biggest improvement in this frame over my old one, and I didn't think my old one was all that bad to begin with. While this was a very short jaunt (15.7 miles) without much climbing (721'), I think that on longer rides, this compliance will really make a huge difference on my aging body parts. It really is fantastic over rough stuff.

Climbing is nice on this bike, as I expected it would be. Sure, the weight helps, but honestly for a rider of my level, I probably don't notice small changes (unless you strapped a motor to the thing) so I think it's just the entire package that helps the climbing. The bike is smooth and quiet when in or out of the saddle, though I do need to get things adjusted with in the granny gear. The upper jocket pulley on the RD seem to ride against the 27t cog in back, so I probably have to crank down on the b-limit screw.

All in all I think Trek has the geometry of this bike really dialed in, for my body at least. It just seems to do everything really well. It's fun in the turns, on the flats, everywhere. But keep in mind I'm coming off of a 2005 bike, and I don't ride a lot of new bikes on a regular basis, so my experience is a bit limited. What I do know is that on today's ride, at a temp of 58 degrees (quite cold for me) I was able to keep an 18.2mph average speed, which is quite good for me, especially considering that my speed usually starts to drop when the temp gets below 70. It's only 0.2 mph slower than my PR for this route, and I had PRs on two segments today. I think for me that's pretty good.

I'll say I'm very happy with how this turned out, and I think once I get my stem length/bar height dialed in, I'll probably be as comfy on a bike as I've ever been. It's a gorgeous bike to look at, though I'll probably lose the white tape and saddle soon. I know there are a lot of people who don't like Trek. Maybe they see them a boring or generic or too common, but this is really a hard bike not to like. And Trek's warranty is pretty much impossible not to like.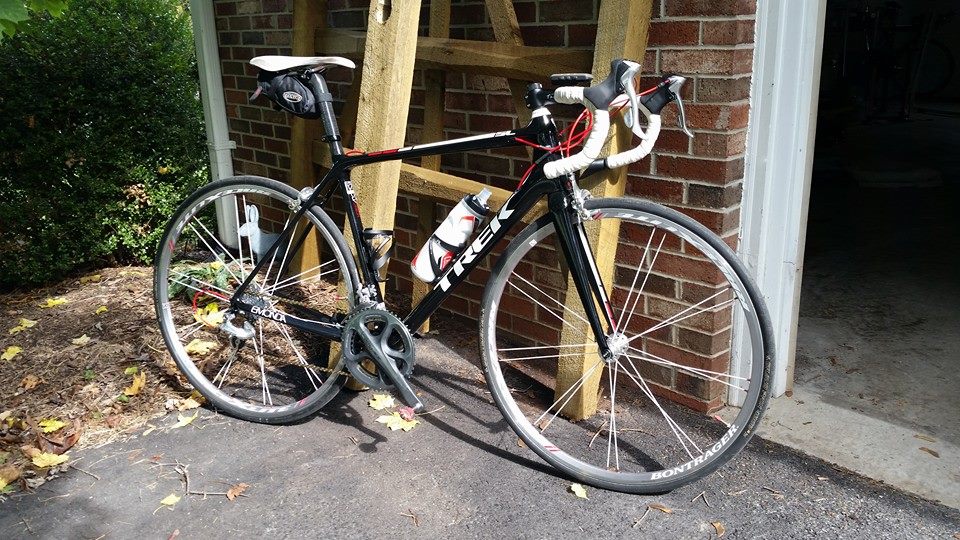 Add Comment
< Back to blog