Older Posts
Posted: May 26, 2015 in Cycling | Add Comment
This past Saturday was my first time riding since May 4th, when I suffered what I think was a mechanical failure related to the front derailleur (or its cabling) that resulted in my dropping the chain during a big ring sprint, slamming my hip down onto the stem, going over the bars, and skidding along the pavement at 20+ mph.
My injury list:
Road rash on my left calf, left knee, left thigh, left side under the arm, left forearm and elbow, and left shoulder,
A huge bruise on my left hip,
A cracked helmet.
Fortutaly, there was no damage to the bike other than some saddle scuffing. I have since replaced the front derailleur.
Saturday's ride was only 10 miles, but boy did it feel good to be back on the bike. So good in fact that I did another 10 miles ride when Jess got home, then a 27 mile ride on Sunday, and 21+ on Monday. But after what pretty much amounts to a month off, I did lose a good bit of fitness, and I still can't put full power down until this hip swelling has subsided.
In other news, I finally have a new set of wheels coming from Rob at Psimet. I'm really looking forward to getting on a decent set of wheels again, especiially after being on my noodly Eastons for the better part of this year. The new wheels aren't quite as aero as I would have liked, but they promise to be very light and responsive. Plus, they're black on black on black, which will be a nice change from the unappealing white spoke/silver rim look of the Bontys. Plus I'll finally be rid of that ghastly paired spoke set up. Huzzah!
---
Posted: April 15, 2015 in Cycling | Add Comment
I've been having a lot of problems keeping my rear wheel (a 2009 Bontrager Race X Lite) true, and this week I found out why. Turns out I'd pulled an eyelet out, so every time I'd tighten up that spoke, it would just pull the eyelet out a little more. Thus, I'm in the market for a new wheelset.
Right now, I'm demoing a pair of Rolf Prima Vigors. So far they're a really nice, light pair of wheels, they accelerate and climb well, and they don't seem to suffer much in cross-winds. But at just over $1k, I think they're a bit steep for what you get. But they sure do look good on the bike!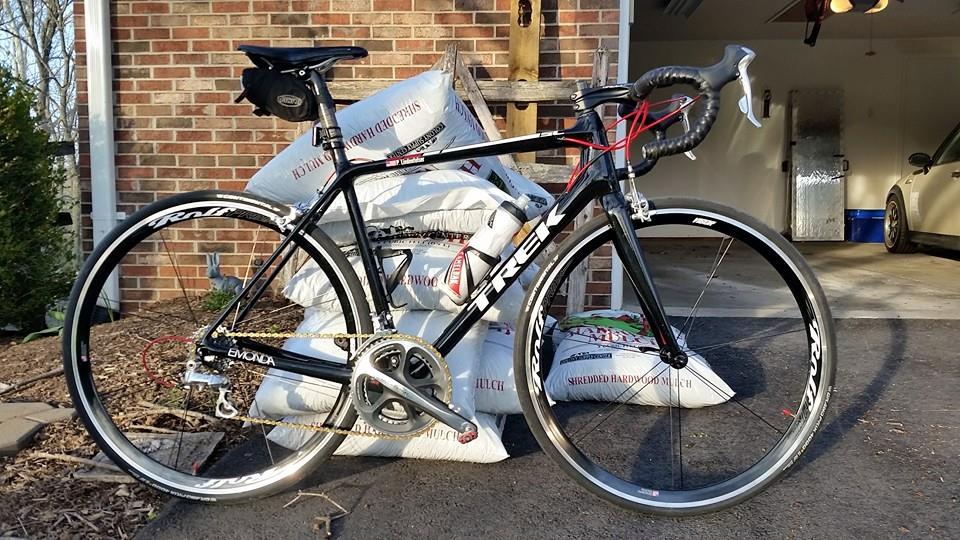 Also, I'm not crazy about the paired spoke setup.
On my short list are Dura-Ace C24s, Soul 2.0 or 3,.0s, or the Flit Cone-a. As long as I'm sub-1500g, and have around a 30mm depth, I'll be good. I'd also prefer black rims and spokes, but the red spoke nipples are optional. I have to give the Rolfs back this weekend, so hopefully I'll make a decision by then.
---
Posted: March 21, 2015 in Cycling | Add Comment
It's that time of year again. When the snow (eventually) stops falling and the weather warms up, and the wheels come out. I've been itching to get the Emonda on the road since the first snowflake fell pretty much, and what better way to do it with some new stuff?
After having my ass on Selle Italia for the better part of three decades, I've decided to try a switch. After test-sitting several different saddles (which involves the totally unscientific method of setting it on a bench then sitting on it while trying to imitate the riding position), I ended up with a Fizik Ardea VS, shown here on the Scattante.
It's actually a pretty comfy saddle, and I got no numbness even after numerous stints of between 30 minutes and an hour on the super-boring indoor trainer. Last weekend I moved the saddle to the Emonda when the weather threw a teaser at is before temps plunged below freezing again.
Also new is a switch to black bar tape. Again with a change, I ditched my long-time favorite Deda tape for some Lizard Skins 3.2mm thick DSP tape. That should give my ginourmous hands plenty of cushion and avoid me switching to a pricey carbon bar. Like the saddle, I went with black tape after deciding the white didn't look right on this bike.
You may also notice an out-front style Garmin mount. YES I have finally swapped my old, ride-forgetting, satellite-dropping 305 for a fancy new 510. I've done one ride on it, and I really like it so far. Plus it pairs up with my phone and uploads directly to Garmin Connect and Strava, saving me from having to plug it into the PC.
Anyway, the finished product is almost there. The next things are a switch from 23mm wide to 25mm wide front tires (by now pretty much everyone who rides has seen the article where 25s offer less rolling resitance and a smoother ride) which are in the mail as I write this. I also will probably get rid of the red cable housings, which look unbalanced with the internal routing of the Emonda. It's more like a red rat's nest in front of the bike.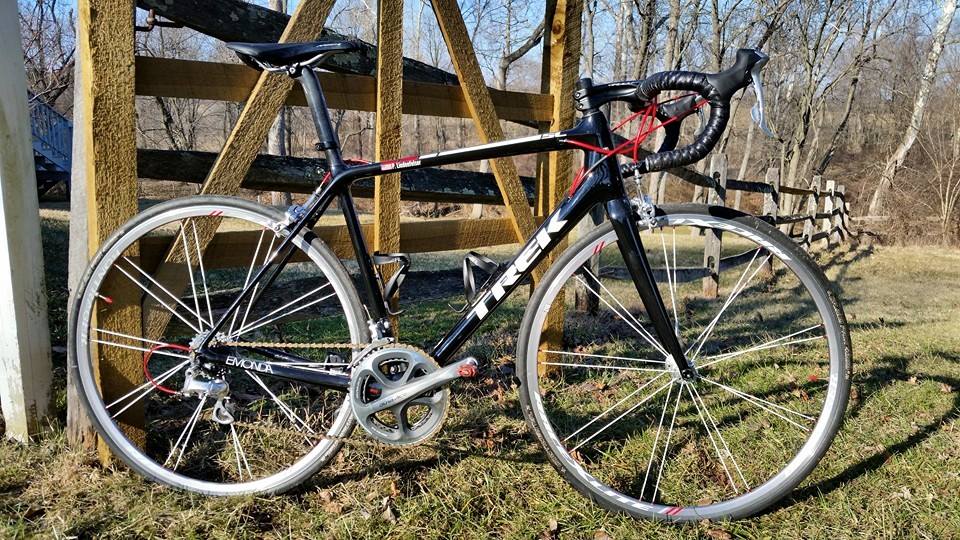 So I'm shooting for another good year, and hopefully the time spent slogging on the trainer will give me a head start.
---
Posted: November 04, 2014 in Cycling | Add Comment
It's that time of year when it get dark before you're even home from work, and it's three degrees when you wake up. NOT ideal cycling weather, which is why it sucks that I got my new bike when I did.
I've been relegated to the indoor trainer for the past week or so, but I have my fingers crossed for something in the 60s this weekend (the forecast calls for 50 even) so I can maybe get out on the mountain bike. For me, mountain biking is less temperature dependent because you don't go as fast, so no sweat freezing to your body on a 40mph downhill.
Speaking of mountain bikes, I've had to scavange my 9700 to get my Jamis riding properly. The rear hub on the Jamis is shot, and I've never liked the Race Face Evolve XC crank. For some reason, the chain line sucks, and it likes to eat bottom brackets. Now I have the 9-sp SLX group on the Jamin, along with the Topo wheels. Those wheels aren't fantastic but at least they have decent hubs and they track straight.
They've put some decent new trails in that are around 10 min from my house. This county sucks at everything else, but at least they do a good job when it comes to riding.
---
Posted: October 12, 2014 in Cycling | Add Comment
Before I start, I'd like to give a nod to my LBS, All American Bikes, for getting my previous position pretty much duplicated on the new bike (and for handling all the warranty stuff with Trek). I had to do almost zero fiddling with my position. Leveling out the saddle was the only change I had to make.

First off, I want to talk about the fit of the bike. This bike fits slightly longer than my 5500 did. With my saddle in the exact same position relative to the pedals, I was a bit stretched out with my same 115mm stem. While I've ordered a new 100mm stem, I almost wish I'd waited because I'd probably adust to this in time, and it actually feels a little more roomy when out of the saddle. That said, this is an ugly stem, and it looks like a spigot that should be stuck to the side of an old house, not on a bike.

Switching to this frame from my 5500 (and the obligatory crankset swap) lost me around 2 lbs. But it feels like I lost a lot more, because this bike likes to accelerate. I have a feeling the BB90 bottom bracket standard has a lot to do with that, and it's probably a lot stiffer of a setup than my old octalink. In fact the bike wants to go so badly that I almost spent my legs just getting out of the neighborhood.

Once up to speed, it's really not all that different than my 5500, other than the position being a bit different. But the one place I did notice an improvement was over rough, broken-up pavement. I think the bump compliance is the single biggest improvement in this frame over my old one, and I didn't think my old one was all that bad to begin with. While this was a very short jaunt (15.7 miles) without much climbing (721'), I think that on longer rides, this compliance will really make a huge difference on my aging body parts. It really is fantastic over rough stuff.

Climbing is nice on this bike, as I expected it would be. Sure, the weight helps, but honestly for a rider of my level, I probably don't notice small changes (unless you strapped a motor to the thing) so I think it's just the entire package that helps the climbing. The bike is smooth and quiet when in or out of the saddle, though I do need to get things adjusted with in the granny gear. The upper jocket pulley on the RD seem to ride against the 27t cog in back, so I probably have to crank down on the b-limit screw.

All in all I think Trek has the geometry of this bike really dialed in, for my body at least. It just seems to do everything really well. It's fun in the turns, on the flats, everywhere. But keep in mind I'm coming off of a 2005 bike, and I don't ride a lot of new bikes on a regular basis, so my experience is a bit limited. What I do know is that on today's ride, at a temp of 58 degrees (quite cold for me) I was able to keep an 18.2mph average speed, which is quite good for me, especially considering that my speed usually starts to drop when the temp gets below 70. It's only 0.2 mph slower than my PR for this route, and I had PRs on two segments today. I think for me that's pretty good.

I'll say I'm very happy with how this turned out, and I think once I get my stem length/bar height dialed in, I'll probably be as comfy on a bike as I've ever been. It's a gorgeous bike to look at, though I'll probably lose the white tape and saddle soon. I know there are a lot of people who don't like Trek. Maybe they see them a boring or generic or too common, but this is really a hard bike not to like. And Trek's warranty is pretty much impossible not to like.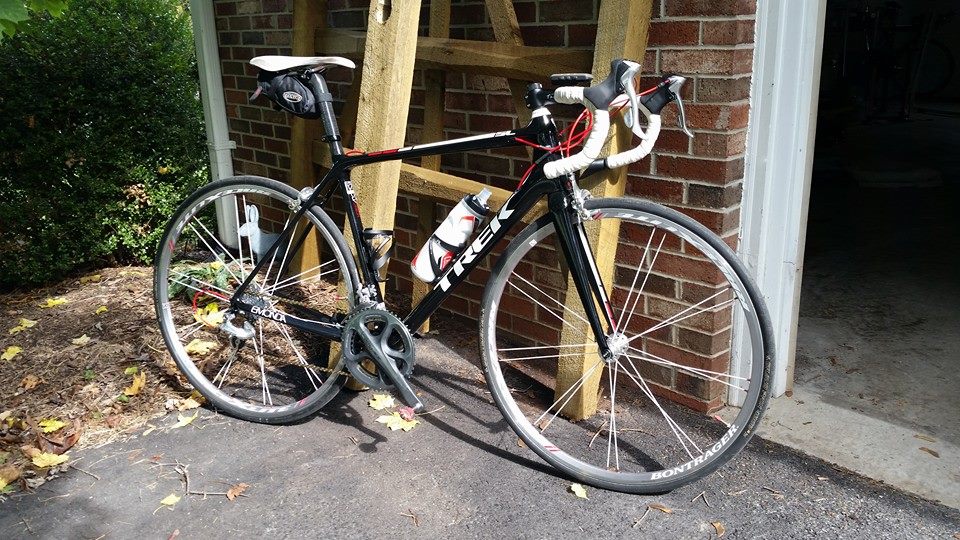 ---
Posted: October 05, 2014 in Cycling | Add Comment
Back in 2005, the Trek OCLV frameset that I bought back in 93 (or was it 92?) finally had the biscuit. The bottom bracket shell came unbonded, leading to horrifying noises while pedalling. Trek replaced the frame, no questions asked, and that's the frame I've been riding ever since.
Well at least until now. After examing the bike to determine the cause of an unexplained clicking near the rear water bottle mount, I found this: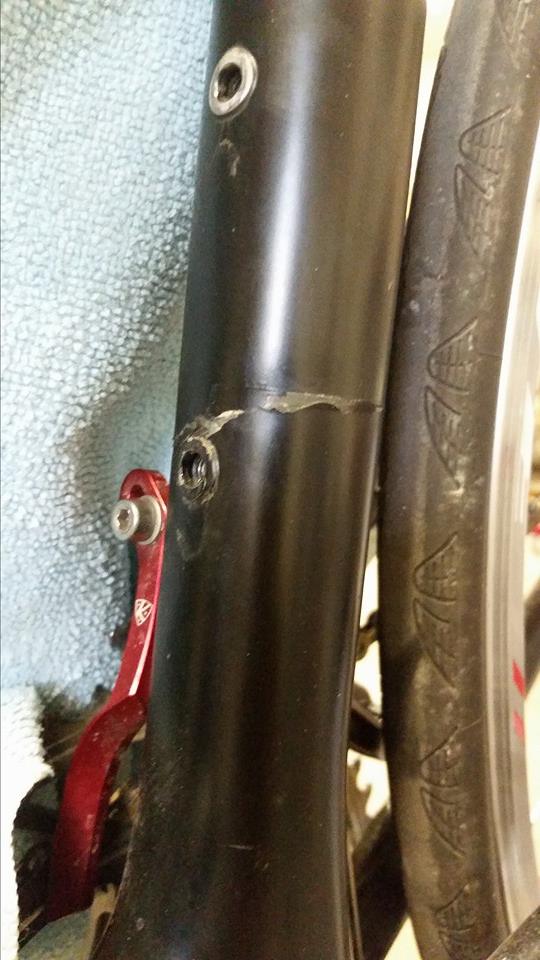 Needless to say, I was quite surprised. The seat tube isn't really a high stress area. I guess it must be high stess enough!
True to their warranty, Trek is sending me out a new frame (an Emonda no less!), no questions asked. And fortunately it's black, with red and white accents, so all my stuff will match. Gotta have matching stuff! Hah!
I'll post pics once it comes in, and once my new crank and bb arrive (the old ones won't fit the new frame, so they're going on the Scattante).
I'm really looking forward to putting some miles on this new bike. Too bad it's so close to the end of the season!
---
Posted: September 15, 2014 in Music & Travel | Add Comment
I have to say that after reading some reactions from the general public about finding a free U2 album on their ithing, I have severely underestimated the utter stupidity of the general public. If you've found the new U2 album on your device and you're blaming U2, you should probably turn your PC/Mac/whatever off, because you're probably too stupid to be using it.
Blaming U2 for Apple putting that album on your device is like having the post man drop someone else's mail in your mailbox, and you blame the mail.
---
Posted: June 28, 2014 in Cycling | Add Comment
Last year I installed some Forte Grip-Tech bar tape on my road bike, which I blogged about at the time. I said I'd do a review, and well, here it is.
It's been just over one full season, or around 1000 miles since I last wrapped my bars. It was a light season due to weather and travel, but it's about all I get these days. Plus, last year consisted mostly of mountain biking, so the road miles suffered.
The Grip-Tech was so so. It did what it was supposed to do, but it didn't last long, as you can see here:
This is what my Deda tape would have looked like after 5000 miles, not 1000. Next time I'll definitely stick with the Deda.
That said:
Pros:
Looks nice when new
Shock absorbent
Grippy
Good price point
Cons:
Doesn't last long
Gets dirty quickly and stays dirty
Difficult to clean once it's dirty
UPDATE:
I finally got around to replacing this tape, and ran into a whole other issue. The glue holding the tape on is way too strong, so when you peel the old tape off, it shreds, leaving you with numerous bits and pieces to pick off. It took me AGES to get the bars clean and prepped for the new tape. At the risk of sounding like an ad (or a shill), save yourself some headache and just get some Deda.
---
Posted: June 25, 2014 in Misc | Add Comment
No, I haven't been making many posts recently. Actually, I have. They're just not here. The primary reason for this is because whenever I try to make a new post, Firefox figures out a way of either crashing or closing the browser window before I'm done, thus losing the post. And I don't retype things, ever, for any reason.
So you'll have to use your imagination for a while. ;)
---
Posted: May 24, 2014 in Cycling | Add Comment
It's been a good year for cycling so far, despite the seemingly endless weeks of rain, rain, and more rain. So good in fact that I've started logging my mileage again. I use an old Garmin Edge 305 GPS-enabled cycling computer, but unfortunately the Garmin software for it looks like an old Windows 3.1 interface.
I also have an account on Strava, but that means I have to tote my phone around with me on rides - which I tend to do anyway, but in this case if I stop to eat, tweak the bike, chat with other riders, fix a flat, or pull a tree branch out of my spleen, I have to fish the phone out of my jersey to pause the timer. Also, Strava has wildly different opinions on things like calories burned and feet climbed (the Strava uses GPS data for the former, whereas the 305 has a more accurate altimeter).
But after fiddling around today, I figured out that I can upload rides from my Garmin directly into Strava. This is a good thing, because it means that I'll get more accurate data (especially if I but a speed sensor for the mountain bike) and I can keep my phone tucked away safe.
In addition to all of the above, I've also decided (for no good reason) to track my mileage on this website as well. Up top there's a new tab called "Rides" which leads to my ride log. I figure if Strava ever goes away or turns into a pay service, I'll still have my rides somewhere I can get to them. After all, you can never have too many backups!
---
Posted: May 20, 2014 in Cycling | Add Comment
I ordered some helmet pads and some handlebar take from Probikekit.com. They're in the UK but they have free shipping to the US. Helmet pads weight less than the packaging they're sent in, and cork bar tape isn't much heavier.
The box arrived last night and seemed a bit heavy. When I opened it, I found the following:
Helmet pads (the wrong ones)
Handlebar tape (the one I ordered)
One 250ml bottle of Lipton Iced tea.
I mean wtf? Why would you deliberately increase the shipping weight of something YOU'RE paying to ship?? It's not like iced tea is some cycling related thing they're trying to promote.
I don't get it.
---
Posted: April 23, 2014 in Tech | Add Comment
As I've no doubt mentioned at least a hundred times by now, I've been using Ubuntu Linux as my primary OS since sometime in 2006. I've gone through some ups and some downs with it, and have tried a few other distros (Mint for one) but somehow I keep coming back to the good old "U".
One hurdle that many Ubuntu users have is dealing with a desktop manager. Ubuntu jumped on the Unity train a few years back, and it's pretty much gone over like the Netflix streaming/DVD split. I've bounced around between desktops (Gnome3, Cinnamon, Mate) but Unity seems to be where all the development effort is focused, so I decided to give it a shot back in 12.10.
And 12.10 is where I've been stuck until now. The geniuses at Canonical decided to depricate the systray while hundreds of apps still used it. The result? No tray icons for anything (chat, IM, music players, etc) rendering them all pretty much useless. In 12.01 you could sort of bring back the tray, so my feet stayed firmly planted there.
Until now.
The beta of 14.04 started getting really good reviews. Lots of bugs are fixed, and the look and feel has improved. Most of the apps that used the tray now have indicators (most, not all) so that was good news. It's also a LTS release, so I figured it would be a good one to try. So far I was right.
"Trusty Tahr" as it's called has been pretty smooth since my install last weekend. Indeed I have indicators, and a lot of annoyances were fixed. I still have a few niggling problems (a shadow on my conky system monitor) and some designed-in bugs (window controls stuck on the left in a mac-like stupor) that are being rammed down our throats (I thought this was Linux?) but hopefully the former will be solved and if the latter isn't, I suppose I'll have to get used to it.
It seems more stable than my 12.10 install (I was always getting "Ubuntu has encountered an error" popup) and so far everything works. The look and feel of the desktop is noticably slicker (I'm running the Numix theme with Moka icons), and the Nvidia video drivers installed without a hitch for the first time ever. Ok, there was a hitch with the plymouth boot screen, but it took 3 minutes to fix.
So far so good.
---
Posted: April 19, 2014 in Slotcars | Add Comment
I've picked up a few new cars since last update. Some of them are because I have classes to run them in, and some are because I just really like the car.
The McLaren M8D is an example of the latter.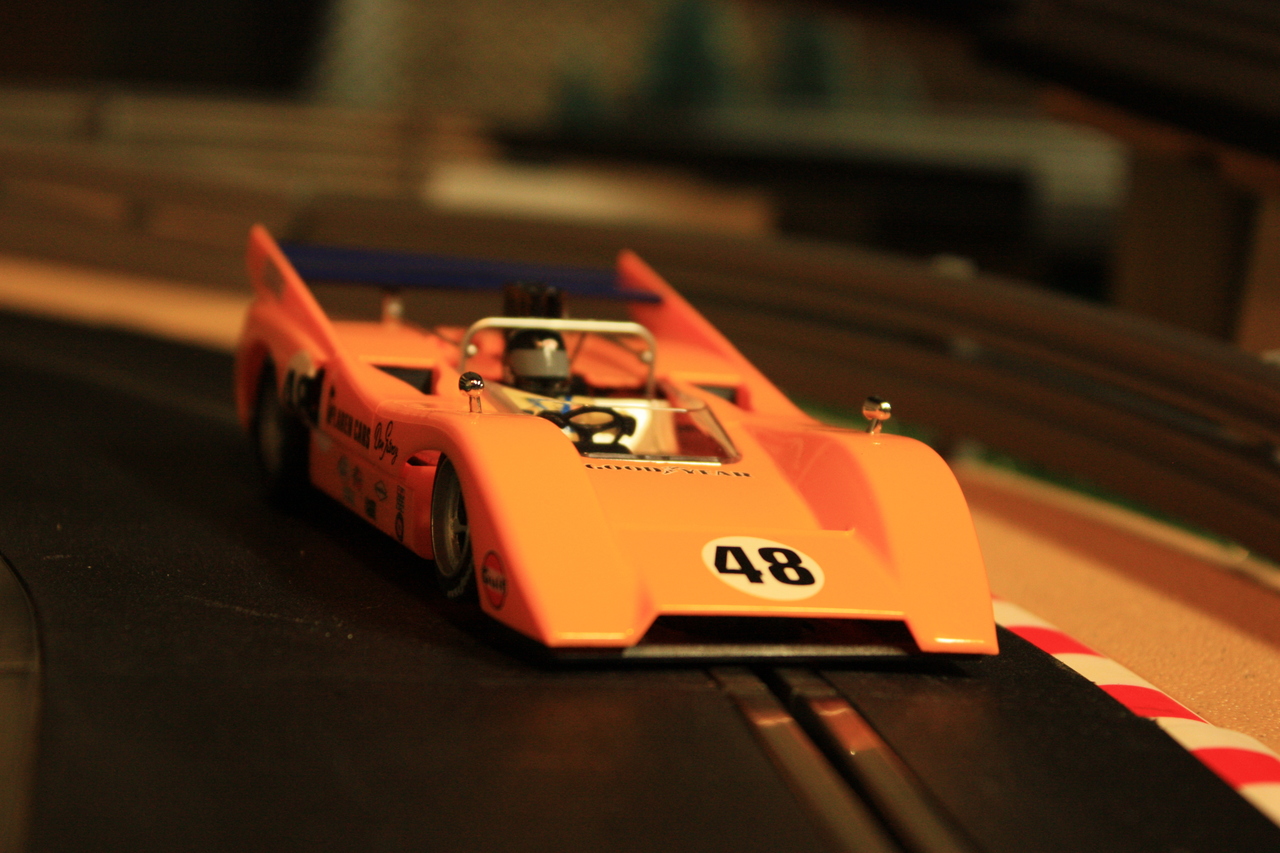 I originally wanted to convert this car to an anglewinder and slap a Flat 6 RS into it for our unlimited class, but it can't be anglewound, so it has to stay as a sidewinder. I might swap out the rear wheels/tires and try a better motor, but if not it's just a really nice car to look at.
Next is a BMW M1 by "Sideways by Racer", for our FIA Group 5 class. This car has slot.it parts and is REALLY well balanced. It just laps the track like a bandit with no complaints at all. I swapped the stock motor pod out for a slot.it hard model to control the torque of the Flat 6 motor, and threw NSR rubber out back, but those are the only mods really.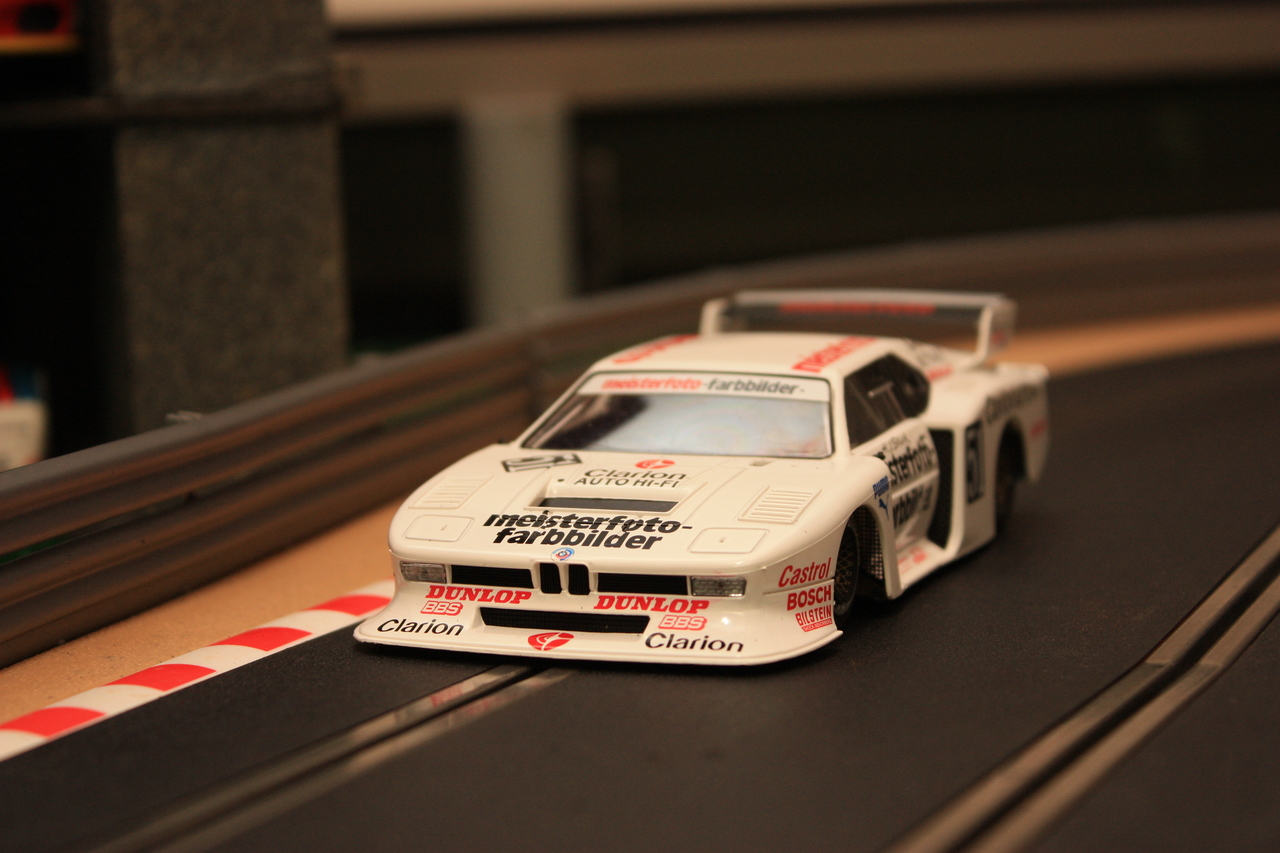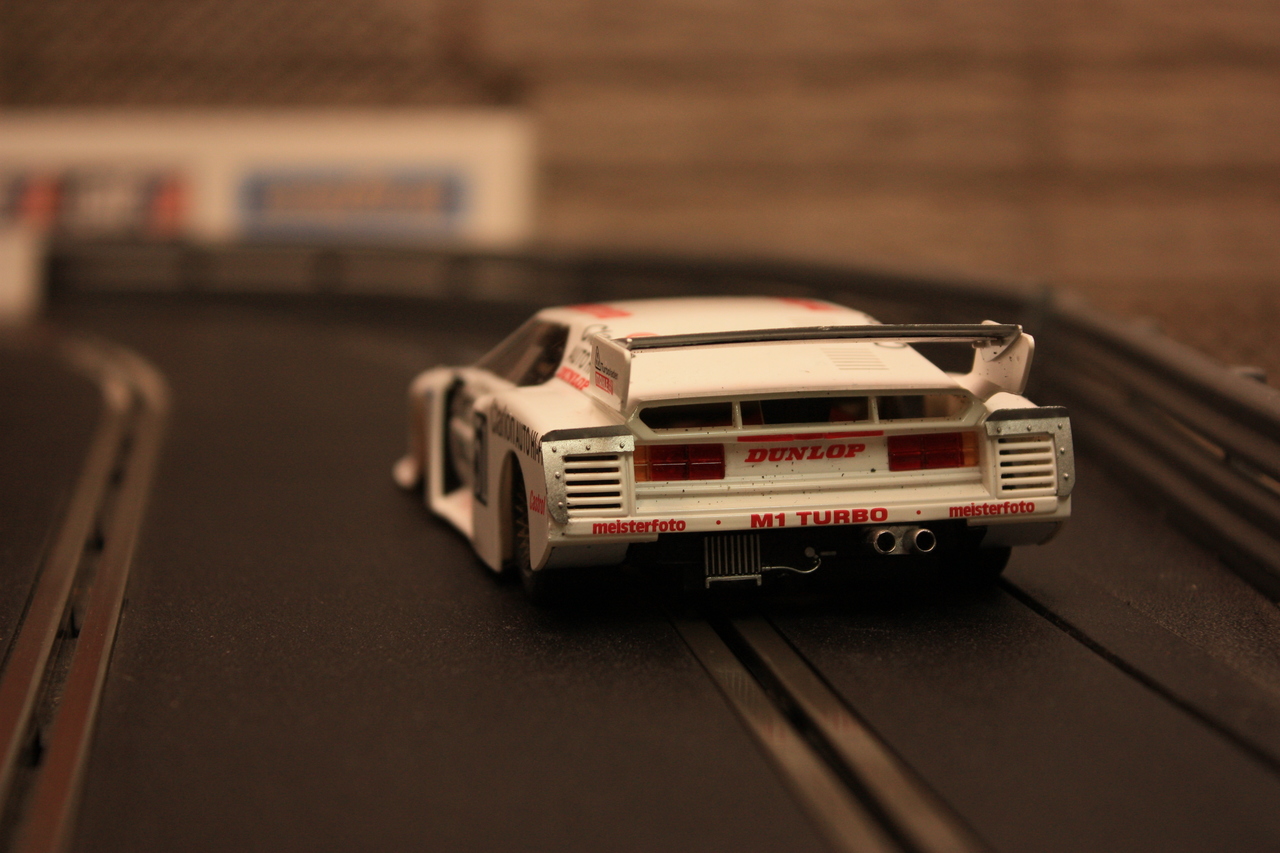 Finally we have a Nissan R390 by slot.it. I LOVE the way these cars look, and have always wanted one. I immediately converted this to an anglewinder with a Flat 6 S, but I'm having some tire clearance issues on the drive side. Once that's solved (probably by wheels with shorter hubs) this thing should really hook up.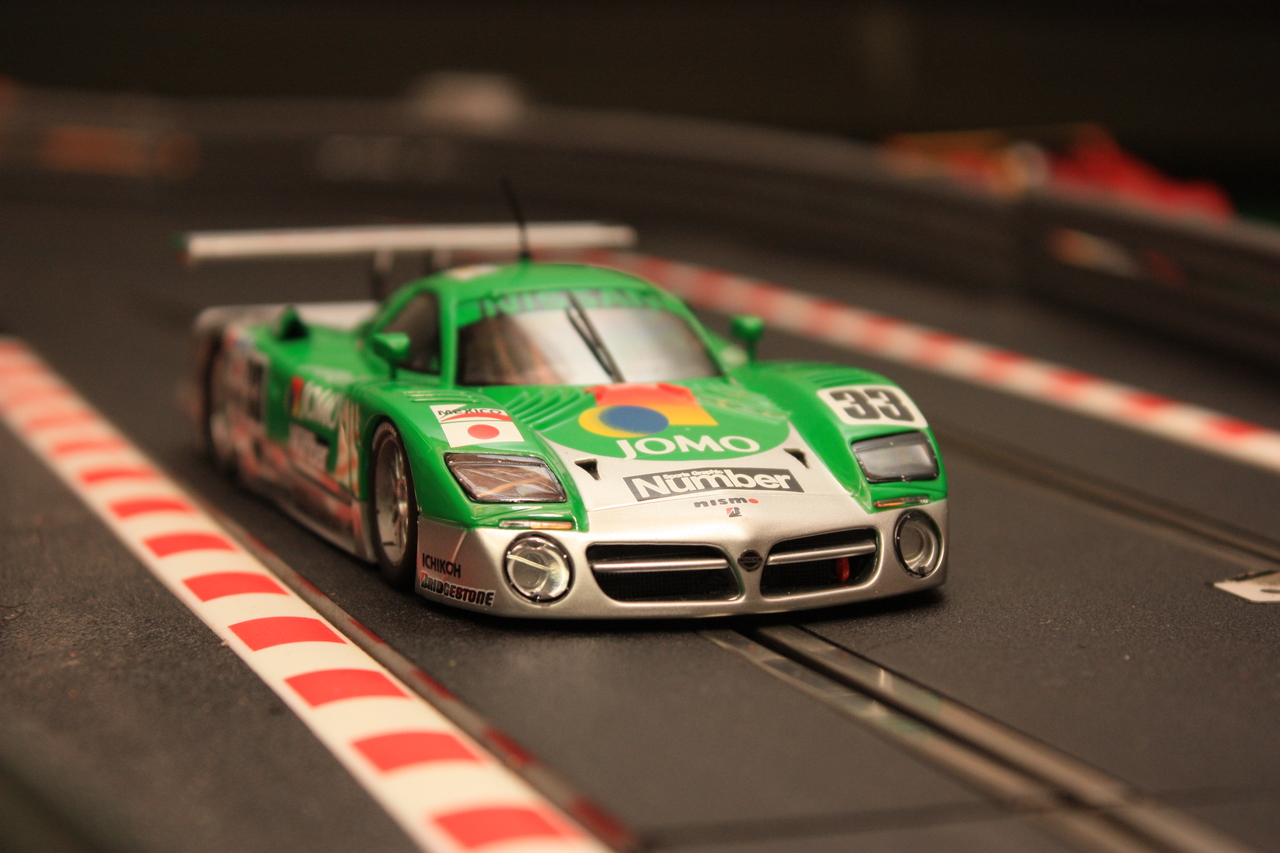 It'll need new rubber out back and some tuning of course, but the car is so low and flat it seems like it can only be fast. We have a modern Lemans class that I can run it in, but currently I'm running my Audi R8C, into which I've just swapped a 25k S can motor, tweaked the gearing, and ditched the urethane tires for NSR rubber. How fast that goes will determine how much work goes into the Nissan.
---
Posted: March 11, 2014 in Slotcars | Add Comment
The slotcar group I race with has been a fun bunch of people. We race approximately twice a month, and always on a wood track with no magnets (which is why I'm thinking about building one). One of the classes we run is late 60s/early 70's Trans Am cars. Eligible care are Scalextric 67-73 Mustangs, Camaros, Dodge Challengers, and if Scalextric ever makes an AMC Javelin (do I even need to finish this sentence?).
Due to the dimensions of the actual cars, and the center of gravity of a slot car, you basically get your ass kicked if you're not driving a 70-73 Camaro in this class. Unfortunately, there are only a handful liveries for this car, and only a few decent looking ones. So, you can easily find yourself on a 3 or 4 lane track racing your clones.
I decided that I'm easily confused enough as it is without trying to figure out which car on the track is mine, so I decided to grab an all-white kit and do my own livery. I chose Chevy Hugger Orange, and went with a flat black hood. It took me some experimentation with the paint and paint can temperatures, but the result is so far pretty good.
Before:
After:
I still plan to paint the rollcage silver, and I might try painting the driver's helmet or something, but for now I think it looks pretty good. I went with a slot.it 21.5k orange endbell motor, which is the max allowed by the rules, and Paul Gage tires. It hooks up pretty well, but I think the tires offer a little too much grip on wood, so I might try going back to rubber.
---
Posted: February 14, 2014 in Slotcars | Add Comment
When I got into slot cars, I built a 2-lane plastic track for test and tune purposes (yes, you can tune slot cars). While a fun layout (see previous blog entry), it had its limitations. First off, racing only two cars at a time isn't much fun, and it's not enough lanes to host races. Second, I used Scalextric Sport track, which is notoriously dodgy in the connectivity department.
But now there is another drawback. Lately I've been racing with a club that races on routed wood tracks with no magnets. This is a total BLAST, but now my home track is not only useless for tuning (wood and plastic are very different animals), some of my wood-tuned cars won't even run on my track.
So... I'm considering selling my current layout and building my own wood track, either 3 or 4 lanes. I don't have a lot of space, but I still might be able to host races (which is fun!) and at the very least I'd be able to tune cars. It'll be a fun project, and the guys in the racing club have offered to help me, so it shouldn't be too daunting a task. I'll post pics of my progress. Work should start once the weather warms up!
---
Posted: January 12, 2014 in Misc | Add Comment
Every year I end the summer in decent shape, and then the holidays come and I eat too much, move too little, and in the springtime I have 10-15 lbs to lose and I've lost most of my cardio. I get on the bike and I feel like a slug. It sucks, but it's the same every year. You think I'd learn.
This time around I have another plan. A few months ago I picked up a home gym machine on Craigslist for a song, and got it set up in the basement. I've been at it between 3 and 5 times a week, so hopefully I'll be able to at least neutralize the weight gain between now and spring, or at least maintain some sort of physical conditioning.
It's a decent machine, and I can do 95% of what I used to do at the gym, so I have no excuse. I can even get Pandora playing on the TV in the next room for some music.
The hard part will be getting the junk food out of my diet, which I've resolved to do, but I really like to eat, and I REALLY like anything that's chocolate, so I have my work cut out for me. Maybe if I could translate a chocolate cookie into a number of reps I'd me more successful. Or maybe I'd just never leave the basement. :P
---
Posted: December 23, 2013 in Slotcars | Add Comment
We have an unfinished section in our basement. Part of it is out laundry room, part is storage, and part is our home gym. But another part is actually a 1/32 scale slot car track. I call it "Poolesville International Raceway". I thought it was a cute name for a small track in a small town of ~5500 people in rural Maryland.
The track is a 2-lane track that's 66' long, laid out on two 4'x8' sheets of plywood in an "L" pattern, and is mostly twisty. There's a progam that you can download to create track layout layouts, and my current layout was the 5th revision of my 29th attempt. You can end up with a lot of crappy layouts before you get one that works, Not to mention one that's fun to drive.
So this is basically what I ended up with:
Eventually I'll make a version with all the turns named. Some of them have ominous names like "Curva de la Morte" (the top left of the track, lower R2) and some have no names at all. It's a fun but difficult track to drive, but it's at least 10x more fun when you have someone to drive with, which I haven't had in a long time.
The reason I have the track is because a good friend of mine, Nick, is bigtime into slotcars. He was always wanting to take me to races, so I bought a car to drive so I wouldn't have to borrow (and crash) his. Well, having a slot car sitting around with no track to race it on is pretty pointless, so that's why I decided to build a small track, to practice and set up my car. Well, cars.
One car became two, then three, then ten, then well, a lot. I think I currently have over 30 cars, most of them eBay finds. I have Jess's old, OLD computer hooked up to time laps, and I'm thinking about putting a wireless card in it so I can run pandora internet radio down there while I race.
The reason I'm ressurecting the track is because I stopped driving my cars for a while, and when you do that, the track oxidizes and looses its electrical connectivity. I was to lazy to go around and scrub it clean, but my friend Frank helped me out one evening, so now things are running perfectly. I even got a dust cover for it to keep it clean.
As far as cars go, my latest addition to the "stable" is this cool Mercedes SLR McLaren:
I've ordered some new tires for it, which will definitely help the traction in the back (and make it do faster laps). I just really like the way it looks, which is how I choose most of my cars. Who wants and ugly car?
The rest of my cars can be checked out here, on my slot car page.
---
Posted: November 15, 2013 in Misc | Add Comment
While I'm certainly no cook, I do occasionally come up with a bizarre idea for a food recipie that I think would make a yummy dish. Usually I'm wrong and trainwreck the dish, but every once in a while I get lucky, like I did recently with my "Fire Steak" marinade. It goes something like this:
(serves two)
Take two single serving size sirloins, 6-8oz each. Pound them flat (to around 3/4" thickness) with a meat tenderizing hammer. Place them into a ziplock bag.
The marinade.
1 Large lemon
1 oz rice vinegar
2 tbsp Worcestershire sauce
1 tsp garlic powder
1 tsp black pepper (like from a pepper mill)
1/2 tsp cayenne powder (optional)
1oz - 1-1/2 oz Sriracha chili sauce
Juice the lemon into a mixing cup and combine the other ingredients into it. Whisk it, then pour it into the ziplock bag with the two steaks. Shake, knead, whatever to get them coated, then place in fridge for around 3 hrs.
Preheat grill to approx 450-500 degrees.
Remove steaks from ziplock bag and dust each side with salt and (I know this sounds weird) table sugar.
Grilling times seem to vary by grill. I grill on one side for around 6 minutes, then flip and grill opposite side for 4-5 minutes (for medium). A friend with another grill reported that he went 5min/4min for medium, so you may have to adjust your times to suit your taste.
You can add or remove the cayenne poweder to adjust the heat, but not the Sriracha (the heat of that pretty much cooks off, leaving just the flavor). The result should be a tender and very tasty steak, and sirloins are pretty lean, so you should be getting away with less than 500 cal per steak.
If you try it, leave a comment below and let me know how you liked it!
---
Posted: September 20, 2013 in Web Design | Add Comment
I occasionally find myself using the <cfhttp> tag for link testing. In our CMS at work, I added a feature to check for valid links in topics, and flag the pages in the database to which a page was no longer associated (sometimes pages will get moved or deleted, but the database entry will remain, like some sort of e-zombie). There's a tool that checks for these missing pages and deletes the entries, but the other day I noticed a "bug".
If the page has been redirected to a new location, the <cfhttp> tag sees the redirect as a valid link. Even though the header is sent back as a 301 (Moved Permanently), <cfhttp> reports 200, OK. This is obviously not ideal. After doing some debugging, I looked at the tag options for <cfhttp>. I'd always known about the head and get methods, but I found one I'd never used before. method="trace".
Using the trace method, <cfhttp> reports the redirects back as 501 errors (Not Implemented?). I edited the CMS so that rather than checking for a 301 code, I checked for the absense of a 200, and voila! The zombies are eradicated!
I took a look at the livedocs, and here's what it says about "trace":
TRACE: requests that the server echo the received HTTP headers back to the sender in the response body. Trace requests cannot have bodies. This method enables the ColdFusion application to see what is being received at the server, and use that data for testing or diagnostic information
Interesting... or not. Despite that rather cryptic explanation (cryptic for me at least), the thing works, so I can live with the livedocs description, and trace doesn't seem any slower than head, which is what I used previously.
---
Posted: August 30, 2013 in Misc | Add Comment
I said I wasn't going to do it, but I did it anyway. I said I wasn't going to let this blog rot after working hard to create it, yet here I am at the end of August with no posts since June. But to be fair, it was a busy summer.
July started off a bit hectic, starting off with Cruise #2 (for me) aboard the Queen Mary 2. It was both better and worse than my first time out on the QM2, but it was still a good time (who can have a bad time aboard a cruise ship?). I took mom this time, and I think she had a blast. Here we are in Halifax.
The food on board was decent, and I managed to catch high tea pretty much every day. Mom got to see the Planetarium show, and she did a bit of senseless gambling. And I got my ice cream ;)
After the cruise, I was back for a week, a week in which my work PC was completely uncooperative, so the work I had planned to get done didn't, putting me behind.
The following week began our annual three-week holiday to Temagami. This time we had two weeks with my mother-in-law, and one week with friends from Frederick, MD. I finally got to climb the Temagami Fire Tower. The view was amazing.
This was our first year having a permanent solar power system, and it worked flawlessly. Even though we only have a 40-watt panel (which will be upgraded to 75-watt by next summer), it was able to handle all of our water pumping needs, as well as charging laptops, phones, and my battery drill. My goal is to have a collection of 18v power tools and only have to run extension cords from the generator when I have to do some really heavy-duty work.
By the time I got back to work at the beginning of August, I had a ton of work to do. To be honest, it took me a couple of weeks to get my coding head back on, but fortunately I had a fun project to get me back into the swing of things - a web tool that I had to reverse engineer using only the database, a results page on a remote server, and nothing else. It actually went really well, and I think the new version of the tool is a lot nicer than the one it replaced.
That's one huge project out of five that's behind me. The rest might not be so much fun, but I plan to get the rest of my webteam involved. Afer all, what fun is it if you can't spread the misery, right?
< Back to current entries