The Latest...
Posted: April 15, 2015 in Cycling | Add Comment
I've been having a lot of problems keeping my rear wheel (a 2009 Bontrager Race X Lite) true, and this week I found out why. Turns out I'd pulled an eyelet out, so every time I'd tighten up that spoke, it would just pull the eyelet out a little more. Thus, I'm in the market for a new wheelset.
Right now, I'm demoing a pair of Rolf Prima Vigors. So far they're a really nice, light pair of wheels, they accelerate and climb well, and they don't seem to suffer much in cross-winds. But at just over $1k, I think they're a bit steep for what you get. But they sure do look good on the bike!
Also, I'm not crazy about the paired spoke setup.
On my short list are Dura-Ace C24s, Soul 2.0 or 3,.0s, or the Flit Cone-a. As long as I'm sub-1500g, and have around a 30mm depth, I'll be good. I'd also prefer black rims and spokes, but the red spoke nipples are optional. I have to give the Rolfs back this weekend, so hopefully I'll make a decision by then.
---
Posted: March 21, 2015 in Cycling | Add Comment
It's that time of year again. When the snow (eventually) stops falling and the weather warms up, and the wheels come out. I've been itching to get the Emonda on the road since the first snowflake fell pretty much, and what better way to do it with some new stuff?
After having my ass on Selle Italia for the better part of three decades, I've decided to try a switch. After test-sitting several different saddles (which involves the totally unscientific method of setting it on a bench then sitting on it while trying to imitate the riding position), I ended up with a Fizik Ardea VS, shown here on the Scattante.
It's actually a pretty comfy saddle, and I got no numbness even after numerous stints of between 30 minutes and an hour on the super-boring indoor trainer. Last weekend I moved the saddle to the Emonda when the weather threw a teaser at is before temps plunged below freezing again.
Also new is a switch to black bar tape. Again with a change, I ditched my long-time favorite Deda tape for some Lizard Skins 3.2mm thick DSP tape. That should give my ginourmous hands plenty of cushion and avoid me switching to a pricey carbon bar. Like the saddle, I went with black tape after deciding the white didn't look right on this bike.
You may also notice an out-front style Garmin mount. YES I have finally swapped my old, ride-forgetting, satellite-dropping 305 for a fancy new 510. I've done one ride on it, and I really like it so far. Plus it pairs up with my phone and uploads directly to Garmin Connect and Strava, saving me from having to plug it into the PC.
Anyway, the finished product is almost there. The next things are a switch from 23mm wide to 25mm wide front tires (by now pretty much everyone who rides has seen the article where 25s offer less rolling resitance and a smoother ride) which are in the mail as I write this. I also will probably get rid of the red cable housings, which look unbalanced with the internal routing of the Emonda. It's more like a red rat's nest in front of the bike.
So I'm shooting for another good year, and hopefully the time spent slogging on the trainer will give me a head start.
---
Posted: November 04, 2014 in Cycling | Add Comment
It's that time of year when it get dark before you're even home from work, and it's three degrees when you wake up. NOT ideal cycling weather, which is why it sucks that I got my new bike when I did.
I've been relegated to the indoor trainer for the past week or so, but I have my fingers crossed for something in the 60s this weekend (the forecast calls for 50 even) so I can maybe get out on the mountain bike. For me, mountain biking is less temperature dependent because you don't go as fast, so no sweat freezing to your body on a 40mph downhill.
Speaking of mountain bikes, I've had to scavange my 9700 to get my Jamis riding properly. The rear hub on the Jamis is shot, and I've never liked the Race Face Evolve XC crank. For some reason, the chain line sucks, and it likes to eat bottom brackets. Now I have the 9-sp SLX group on the Jamin, along with the Topo wheels. Those wheels aren't fantastic but at least they have decent hubs and they track straight.
They've put some decent new trails in that are around 10 min from my house. This county sucks at everything else, but at least they do a good job when it comes to riding.
---
Posted: October 12, 2014 in Cycling | Add Comment
Before I start, I'd like to give a nod to my LBS, All American Bikes, for getting my previous position pretty much duplicated on the new bike (and for handling all the warranty stuff with Trek). I had to do almost zero fiddling with my position. Leveling out the saddle was the only change I had to make.

First off, I want to talk about the fit of the bike. This bike fits slightly longer than my 5500 did. With my saddle in the exact same position relative to the pedals, I was a bit stretched out with my same 115mm stem. While I've ordered a new 100mm stem, I almost wish I'd waited because I'd probably adust to this in time, and it actually feels a little more roomy when out of the saddle. That said, this is an ugly stem, and it looks like a spigot that should be stuck to the side of an old house, not on a bike.

Switching to this frame from my 5500 (and the obligatory crankset swap) lost me around 2 lbs. But it feels like I lost a lot more, because this bike likes to accelerate. I have a feeling the BB90 bottom bracket standard has a lot to do with that, and it's probably a lot stiffer of a setup than my old octalink. In fact the bike wants to go so badly that I almost spent my legs just getting out of the neighborhood.

Once up to speed, it's really not all that different than my 5500, other than the position being a bit different. But the one place I did notice an improvement was over rough, broken-up pavement. I think the bump compliance is the single biggest improvement in this frame over my old one, and I didn't think my old one was all that bad to begin with. While this was a very short jaunt (15.7 miles) without much climbing (721'), I think that on longer rides, this compliance will really make a huge difference on my aging body parts. It really is fantastic over rough stuff.

Climbing is nice on this bike, as I expected it would be. Sure, the weight helps, but honestly for a rider of my level, I probably don't notice small changes (unless you strapped a motor to the thing) so I think it's just the entire package that helps the climbing. The bike is smooth and quiet when in or out of the saddle, though I do need to get things adjusted with in the granny gear. The upper jocket pulley on the RD seem to ride against the 27t cog in back, so I probably have to crank down on the b-limit screw.

All in all I think Trek has the geometry of this bike really dialed in, for my body at least. It just seems to do everything really well. It's fun in the turns, on the flats, everywhere. But keep in mind I'm coming off of a 2005 bike, and I don't ride a lot of new bikes on a regular basis, so my experience is a bit limited. What I do know is that on today's ride, at a temp of 58 degrees (quite cold for me) I was able to keep an 18.2mph average speed, which is quite good for me, especially considering that my speed usually starts to drop when the temp gets below 70. It's only 0.2 mph slower than my PR for this route, and I had PRs on two segments today. I think for me that's pretty good.

I'll say I'm very happy with how this turned out, and I think once I get my stem length/bar height dialed in, I'll probably be as comfy on a bike as I've ever been. It's a gorgeous bike to look at, though I'll probably lose the white tape and saddle soon. I know there are a lot of people who don't like Trek. Maybe they see them a boring or generic or too common, but this is really a hard bike not to like. And Trek's warranty is pretty much impossible not to like.
---
Posted: October 05, 2014 in Cycling | Add Comment
Back in 2005, the Trek OCLV frameset that I bought back in 93 (or was it 92?) finally had the biscuit. The bottom bracket shell came unbonded, leading to horrifying noises while pedalling. Trek replaced the frame, no questions asked, and that's the frame I've been riding ever since.
Well at least until now. After examing the bike to determine the cause of an unexplained clicking near the rear water bottle mount, I found this: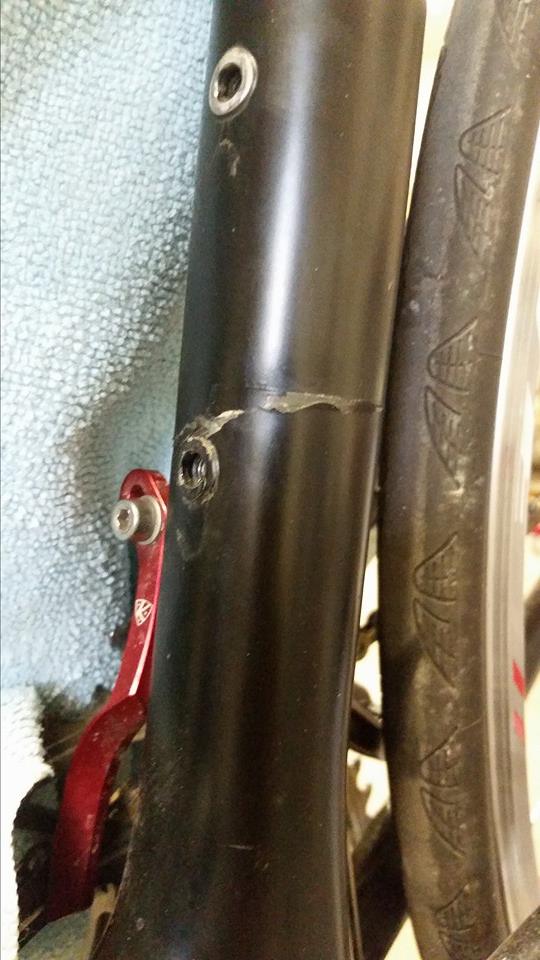 Needless to say, I was quite surprised. The seat tube isn't really a high stress area. I guess it must be high stess enough!
True to their warranty, Trek is sending me out a new frame (an Emonda no less!), no questions asked. And fortunately it's black, with red and white accents, so all my stuff will match. Gotta have matching stuff! Hah!
I'll post pics once it comes in, and once my new crank and bb arrive (the old ones won't fit the new frame, so they're going on the Scattante).
I'm really looking forward to putting some miles on this new bike. Too bad it's so close to the end of the season!
View older posts >