The Latest...
Posted: November 04, 2014 in Cycling | Add Comment
It's that time of year when it get dark before you're even home from work, and it's three degrees when you wake up. NOT ideal cycling weather, which is why it sucks that I got my new bike when I did.
I've been relegated to the indoor trainer for the past week or so, but I have my fingers crossed for something in the 60s this weekend (the forecast calls for 50 even) so I can maybe get out on the mountain bike. For me, mountain biking is less temperature dependent because you don't go as fast, so no sweat freezing to your body on a 40mph downhill.
Speaking of mountain bikes, I've had to scavange my 9700 to get my Jamis riding properly. The rear hub on the Jamis is shot, and I've never liked the Race Face Evolve XC crank. For some reason, the chain line sucks, and it likes to eat bottom brackets. Now I have the 9-sp SLX group on the Jamin, along with the Topo wheels. Those wheels aren't fantastic but at least they have decent hubs and they track straight.
They've put some decent new trails in that are around 10 min from my house. This county sucks at everything else, but at least they do a good job when it comes to riding.
---
Posted: October 12, 2014 in Cycling | Add Comment
Before I start, I'd like to give a nod to my LBS, All American Bikes, for getting my previous position pretty much duplicated on the new bike (and for handling all the warranty stuff with Trek). I had to do almost zero fiddling with my position. Leveling out the saddle was the only change I had to make.

First off, I want to talk about the fit of the bike. This bike fits slightly longer than my 5500 did. With my saddle in the exact same position relative to the pedals, I was a bit stretched out with my same 115mm stem. While I've ordered a new 100mm stem, I almost wish I'd waited because I'd probably adust to this in time, and it actually feels a little more roomy when out of the saddle. That said, this is an ugly stem, and it looks like a spigot that should be stuck to the side of an old house, not on a bike.

Switching to this frame from my 5500 (and the obligatory crankset swap) lost me around 2 lbs. But it feels like I lost a lot more, because this bike likes to accelerate. I have a feeling the BB90 bottom bracket standard has a lot to do with that, and it's probably a lot stiffer of a setup than my old octalink. In fact the bike wants to go so badly that I almost spent my legs just getting out of the neighborhood.

Once up to speed, it's really not all that different than my 5500, other than the position being a bit different. But the one place I did notice an improvement was over rough, broken-up pavement. I think the bump compliance is the single biggest improvement in this frame over my old one, and I didn't think my old one was all that bad to begin with. While this was a very short jaunt (15.7 miles) without much climbing (721'), I think that on longer rides, this compliance will really make a huge difference on my aging body parts. It really is fantastic over rough stuff.

Climbing is nice on this bike, as I expected it would be. Sure, the weight helps, but honestly for a rider of my level, I probably don't notice small changes (unless you strapped a motor to the thing) so I think it's just the entire package that helps the climbing. The bike is smooth and quiet when in or out of the saddle, though I do need to get things adjusted with in the granny gear. The upper jocket pulley on the RD seem to ride against the 27t cog in back, so I probably have to crank down on the b-limit screw.

All in all I think Trek has the geometry of this bike really dialed in, for my body at least. It just seems to do everything really well. It's fun in the turns, on the flats, everywhere. But keep in mind I'm coming off of a 2005 bike, and I don't ride a lot of new bikes on a regular basis, so my experience is a bit limited. What I do know is that on today's ride, at a temp of 58 degrees (quite cold for me) I was able to keep an 18.2mph average speed, which is quite good for me, especially considering that my speed usually starts to drop when the temp gets below 70. It's only 0.2 mph slower than my PR for this route, and I had PRs on two segments today. I think for me that's pretty good.

I'll say I'm very happy with how this turned out, and I think once I get my stem length/bar height dialed in, I'll probably be as comfy on a bike as I've ever been. It's a gorgeous bike to look at, though I'll probably lose the white tape and saddle soon. I know there are a lot of people who don't like Trek. Maybe they see them a boring or generic or too common, but this is really a hard bike not to like. And Trek's warranty is pretty much impossible not to like.
---
Posted: October 05, 2014 in Cycling | Add Comment
Back in 2005, the Trek OCLV frameset that I bought back in 93 (or was it 92?) finally had the biscuit. The bottom bracket shell came unbonded, leading to horrifying noises while pedalling. Trek replaced the frame, no questions asked, and that's the frame I've been riding ever since.
Well at least until now. After examing the bike to determine the cause of an unexplained clicking near the rear water bottle mount, I found this: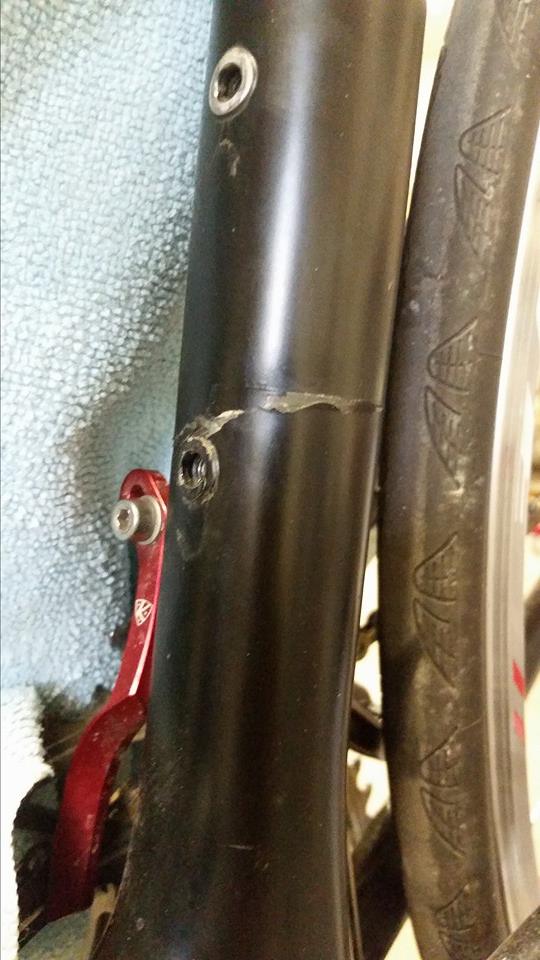 Needless to say, I was quite surprised. The seat tube isn't really a high stress area. I guess it must be high stess enough!
True to their warranty, Trek is sending me out a new frame (an Emonda no less!), no questions asked. And fortunately it's black, with red and white accents, so all my stuff will match. Gotta have matching stuff! Hah!
I'll post pics once it comes in, and once my new crank and bb arrive (the old ones won't fit the new frame, so they're going on the Scattante).
I'm really looking forward to putting some miles on this new bike. Too bad it's so close to the end of the season!
---
Posted: September 15, 2014 in Music & Travel | Add Comment
I have to say that after reading some reactions from the general public about finding a free U2 album on their ithing, I have severely underestimated the utter stupidity of the general public. If you've found the new U2 album on your device and you're blaming U2, you should probably turn your PC/Mac/whatever off, because you're probably too stupid to be using it.
Blaming U2 for Apple putting that album on your device is like having the post man drop someone else's mail in your mailbox, and you blame the mail.
---
Posted: June 28, 2014 in Cycling | Add Comment
Last year I installed some Forte Grip-Tech bar tape on my road bike, which I blogged about at the time. I said I'd do a review, and well, here it is.
It's been just over one full season, or around 1000 miles since I last wrapped my bars. It was a light season due to weather and travel, but it's about all I get these days. Plus, last year consisted mostly of mountain biking, so the road miles suffered.
The Grip-Tech was so so. It did what it was supposed to do, but it didn't last long, as you can see here:
This is what my Deda tape would have looked like after 5000 miles, not 1000. Next time I'll definitely stick with the Deda.
That said:
Pros:
Looks nice when new
Shock absorbent
Grippy
Good price point
Cons:
Doesn't last long
Gets dirty quickly and stays dirty
Difficult to clean once it's dirty
UPDATE:
I finally got around to replacing this tape, and ran into a whole other issue. The glue holding the tape on is way too strong, so when you peel the old tape off, it shreds, leaving you with numerous bits and pieces to pick off. It took me AGES to get the bars clean and prepped for the new tape. At the risk of sounding like an ad (or a shill), save yourself some headache and just get some Deda.
View older posts >